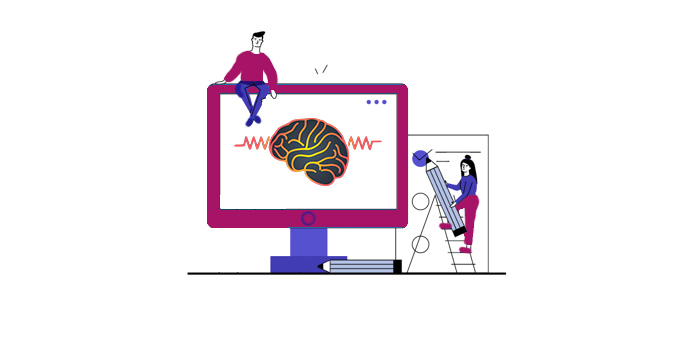 Epilepsy is the 4th most common neurological disease in the world, affecting about 50 million people globally. According to studies, this neurological disorder is more common than Parkinson's disease, Cerebral palsy, autism, and multiple sclerosis combined. Generally, web content does not harm individuals with epilepsy (specifically photosensitive epilepsy). However, some web owners use design and dramatic effects such as flickering or flashing lights and strobe-like effects, which may cause harm to some users. Even if they do not trigger seizures, as is the case for photosensitive epilepsy, they can be distracting and cause dizziness or nausea. Indeed, you wouldn't want your web content associated with things like that. Therefore, to prevent this from happening, we have created a checklist for epilepsy accessibility. Here, we will tell you what part of your website should be accessible for those with seizures. There's a lot to learn, so let's get started.
What is Epilepsy?
Epilepsy (also known as a seizure disorder) is a chronic non-communicable disease that affects the nervous system. This disability is characterized by recurring seizures involving part of the body or the entire body. It is often accompanied by loss of bowel control, bladder functions, and unconsciousness. Other symptoms of epilepsy include disturbance of movement, mood, sensation, and loss of other cognitive functions.
Epilepsy can affect people of all ages. It is particularly common in babies between the ages of 0 to 2 years but rare in toddlers between three and five. It is also common in children aged six to thirteen, teenagers, young adults, adults, and elderly people.
Seizure episodes occur when there is excessive electrical discharge from one part of the brain, this can range from brief muscle jerk to severe convulsions and vary in frequency of occurrence. Asides from electrical activity, epilepsy can also be caused by brain damage or family history. However, the cause is yet to be known.
Photosensitive Epilepsy
Photosensitive epilepsy (PSE) is a form of epilepsy in which certain things trigger seizures. It's not common, though, but it can be diagnosed when an EEG test is done.

Triggers of photosensitive epilepsy include the following:
Certain types of visual patterns, particularly those with high contrasting colors
Certain colors such as blue and red
Theater lights, night club lights, strobe lights
Moving escalators and faulty fluorescent lights
Fireworks
light viewed through fast-moving fan
Natural light, including sunlight. It is more severe when the light shimmers off the water or flickers through the slats of blinds or trees.
High intensity of strobe lights such as visual fire alarms.
Some types of Tv broadcast or video games, especially those containing alternating patterns of different colors or rapid flashes.
Rolling or flickering images from computer, laptop, or television screens.
Checklist for Epilepsy Accessibility
To ensure people with photosensitive seizures are protected, the World Wide Web Consortium (W3C) has included guidelines for web owners to follow in its guidelines related to Web Content Accessibility Guidelines (WCAG). This W3C provides a success criterion that enables photosensitive epilepsy disorder to access any web content without triggering a seizure.
If you are a web owner or hope to develop one, then the following checklist of epilepsy accessibility should be considered:
1. Avoid Seizure Triggering Features
Contents should not be designed so that it causes harm or triggers seizures in its users. There are several ways of ensuring this, one of which is ensuring that animation that users cannot control is not included in the content.
Also, avoid problem-causing patterns. Furthermore, while .png or .gif with flashes is best avoided, they can be recorded and converted to a video format with control options available for users. Users should be given the option of turning it off, avoiding it completely, or making it less harmful for use.
2. Control Access and Exposure
Exposure to damaging web contents should be controlled to prevent those susceptible to seizures from being accidentally exposed. If your web content contains animations or images that can trigger seizures, then you should develop a control measure around it that limits or prevents access to such damaging contents. Such control measures could include displaying a warning about the danger of the content, after which the content must be placed in a location that requires users to select the option if they are to access it. This can be done either by including a button or having a specific and clear warning posted before the page can be accessed.
3. Determine if a GIF is Animated
Animated GIFs are distractions and can trigger seizures in those with photoelectric sensitivity. Hence, if you must include animated GIFs, ensure they are dormant until the user chooses to activate them. It can be done so that users will have to click a box or push a button before the animation can be activated.
4. Limit Flashing
If you must have to flash on your web content, try to keep it small. Generally, the size of the flash area should be limited to 341 x 256 pixels or less. At this distance, the user is safer. However, this site may be considered too big if the screen's image is to be viewed at a closer range. To prevent this, a WebVR can be used. WebVR can be used on headsets, computers, or phones.
5. Reduce Contrast
Ideally, web contents with high contrasts are easier to access. The higher the contrast of text color to its background, the better the readability of the web content; users with low vision particularly more appreciate this.
However, when the web content is animated, reducing the contrast will reduce the possibility of the content triggering any seizure form. Thus, web developers are advised to reduce the contrast ratio if three flashes are observed within a second. A more proactive approach will be to adjust the contrast before publishing it or uploading it to the web.
6. Saturated Reds should not be used for Flashing Content.
According to the Epilepsy Foundation of America, a flash poses a danger to those with photosensitive seizures if the luminance is at least 20 cd/m3 with a frequency of 3Hz and a visual angle of 0.006 steradians.
Regardless of the level of luminance, though, transitioning to and from saturated red can still pose a risk to users. However, there are several ways to tackle this. They include:
Creating alternative CSS Styles
Distinct Style Switching
Text only alternative
7. Take Advantage of Media Queries
Setting up media queries gives users control over the web features. Generally, these controls are either available in the OS or browser. With these controls, users can set things like 'prefers reduced motion,' which helps them develop an ideal motion speed.
For instance, by clicking a button, users can select whether they want their device to vibrate when accessing the web content or not. Also, 'prefers color scheme' can be used when ambient light API is not available. This allows users to determine whether they want their device to be displayed in dark or light mode.
Furthermore, media update features can be introduced; this reduces the number of flickers produced by the screen, thereby ensuring stability. However, it is expensive and cannot be afforded by every web developer.
Summary of Checklist Epilepsy Accessibility
We have summarized all the important accessibility checklist epilepsy in these points below:
No component of any content should contain flashes that occur more than three times in a second.
Flashing should be restricted to small areas of approximately 341 by 256 pixels
Tools should be used to ensure web contents do not violate the set flash threshold
Contrast for flashing contents should be reduced to the barest minimum
A control measure or mechanism should be deployed to limit any flashing content even before they occur
When flashes occur more than three times per second, the image should be frozen momentarily until it stops or reduces
To avoid rapid flashes from happening, slow down live materials
A customized flash rate limit should be included in web contents; this should be made adjustable by users
If moments occur more than three times in a second, reduce the contrast ratio
Conclusion Checklist Epilepsy Accessibility
Ideally, most web contents are safe for use even by those with a photosensitive seizure disorder. However, since epilepsy is a severe disorder, web owners need to be aware of the risk involved if their websites contain flickering graphics, flashing, or animations. Asides from triggering seizures, they can also cause nausea or dizziness in regular people.
This is why web developers must take care to create web contents that are appealing and accessible to all, including those with epilepsy. This way, the over 50 million persons with this disorder are not left out of all the fun and opportunities websites have to offer.
Web owners can also explore other accessibility checklists such as accessibility checklist color blind well.
If you want to know if your website is in full compliance with accessibility guidelines, you can use A11y, one of the top checkers around.