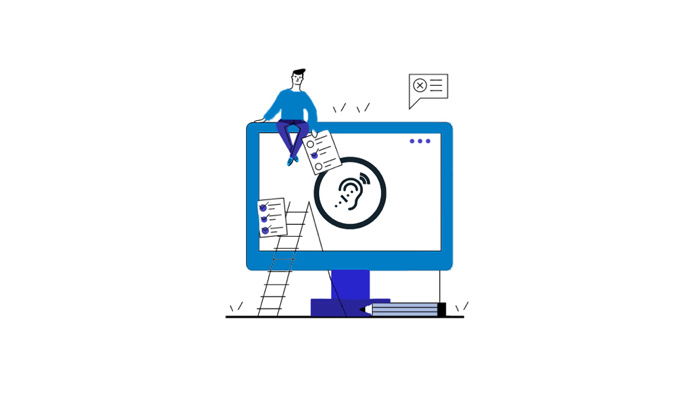 One of the disabilities that are included in web accessibility compliance is an audio disability. Before​​​​ you can say that your website is fully accessible, you must check the status of the audio accessibility. To make sure you cover all the parts, we have created this audio accessibility checklist. Our checklist tells you what parts of your website you should make accessible for users with auditory disabilities. Often, website owners turn less focus on this aspect of accessibility compliance. With this checklist, we guide you through the process of improving your website on audio accessibility today. Checklist Audio Accessibility – 3 Tips To Improve Your Website Accessibility
What is audio accessibility?
Before we dive into the checklist of audio accessibility, we first need to explain what audio accessibility is. Audio accessibility is a way of making audio content accessible to people with auditory disabilities. Auditory disability is said to be present when a particular individual encounters difficulty accessing content with sound. Hearing impairment (another term for auditory disabilities) has three broad categories. Auditory impairment could be mild, severe, or profound. More often than not, persons with hearing impairment rely on assistive technologies, hearing aids, and captioning to make sense of audio content. Each of these categories has its peculiar needs that website owners must consider when creating online content.
Four major obstacles for persons with hearing impairment
There are four major obstacles that persons with hearing impairment face as they navigate the web. Multimedia content (including audio and video with sound) without transcripts is the most prominent barrier to hearing or suffering profound deafness. Similarly, media players who do not provide audio control mechanisms may strain this group of people. Thus, an irritating sound might put off an end-user with an auditory disability.
Another common oversight on the part of website owners is restricting web applications or services to voice interaction. This is an outright denial to the hearing impaired, especially those who are deaf or deaf-blind. Lastly, not providing text adjustment options or color caption could present a serious challenge to these visitors.
Why Audio Accessibility?
Making your site audio accessible is a must. So, what is in it for you to keep your website compliant with the WCAG 2.1 audio accessibility requirements? Well, there are tons of benefits in ticking off all items on the audio accessibility checklist. For many reasons, a blog or website available to the deaf and hard of hearing should be the standard.
First and foremost, an audio-accessible site levels the ground for users with auditory impairment. It is one of the main ways of ensuring equal access to the most neglected disability group. A website visitor who is hard of hearing could rely on transcript text or audio description without losing any bit of useful information presented in audio content. Consequently, this improves the user experience and leaves a positive impression. Moreover, audio transcripts and captions are proven ways to boost your site's performance on search engines. No doubt, SEO is an integral aspect of every content strategy if you want more users to discover your business. Interestingly, audio transcripts are a way of enhancing whatever SEO framework you have as basic.
In addition to enhancing website accessibility, an audio transcript is a way of doubling your content. The direct implication of these transcripts is that search engine algorithms have more content to crawl from your site. Since SEO is both a quality and quantity game, you could improve your odds with well-transcribed audio content. You are killing two birds with one stone, just like that.
Audio Accessibility checklist: What to check and how
Although it could be a bit daunting to put all these checks in place, it is a worthwhile undertaking for you and your business. By maintaining an accessible website, you are providing inclusion for 466 million people across the globe. Remember, there is a massive gain in this for you. You can retain 60% of people in the workforce who possess considerable buying power. At the same time, you are preventing your business from enervating legal issues.
Now that you have convincing reasons to bring your site to full audio accessibility compliance, what are the steps to take? The following are the items that the World Content Accessibility Guidelines 2.1 requires you to tick to attain your goal.
Provide a mechanism for audio control
A basic requirement is that multimedia content plays on the user's request. As a form of best practice, the WCAG 2.1 discourages automatically starting sounds. Due to their reliance on screen readers, the visually-impaired audience may not hear the speech output if another sound plays simultaneously. Therefore, turning off an irritating sound should not be the first experience users encounter on your site.
Provide a control at the beginning of the page for users to quickly turn off automatic sounds: However, in a situation where there is an automatic sound on the web page, users should stop the sound upon landing on your page. A WCAG 2.1 Success Criterion requires that you provide an audio control that is keyboard navigable.
If audio plays automatically beyond 3 seconds, you should provide a mechanism to control (pause or stop) it: However, if sound plays for 3 seconds or less (e.g., a page opens with "Welcome to our Help Desk" and then goes off) there is no violation.
Quick Check Procedure:
Load web page to check that no sounds play automatically
Check that all automatically playing sounds do not exceed 3 seconds.
On a page with music, check for control at the beginning that allows users to turn off automatic music
Clearly label the control button so that users can identify it with ease
Finally, check for a way that users can manually start music or sound
Ensure that users can reduce sound to level zero
Provide transcripts for audio-only presentation
Transcripts are the mainstay of multimedia content accessibility. The World Content Accessibility Guidelines (WCAG) stipulates that for every audio-only content available on your website, an "alternative content" should accompany it.
Transcripts must comprehend important information in the audio-only content: For this alternative to be productive, it should contain an equivalent of the information in the audio-only content. In other words, the document must have the same story as the pre-recorded content. This transcript document serves as a long description and should include all the critical points in the dialogue. It should also have a description of background sounds that are part of the story.
Ensure that the published transcript matches the final audio presentation: In a situation where audio content was created with a script, do not use the initial script as accessible alternative content. Instead, be sure that every update that happened during editing and production gets effected in the final transcript. At all costs, make sure that dialogue matches what is in the edited audio presentation.
Place the link to alternative audio content before or immediately after the pre-recorded audio content: There is no issue if the audio content is on the same page or a different URL. However, you should ensure that a valid link is present to deliver users to the document. Besides, you should check that a back function is available to return users to the page, leading them to the alternative to media content.
Note: If audio content is an alternative for text content, there is no further need to provide a transcript.
Quick Check Procedure:
Listen to audio-only content while referring to the alternative
Check that dialogue presented in pre-recorded audio matches the transcript
Check that transcript identifies each speaker in the dialogue
Check for the availability of a link to allow users to get to alternative content if on a separate page
Also, ensure that the connection is correctly labeled as leading to alternative media content
Provide live text caption for live audio
Ensure that live audio is accessible to users who are hard of hearing or deaf by providing a live text caption. A transcript may be a worthwhile substitute if live audio follows a script. Even so, a real-time caption is preferable because it can play out at the same pace as the audio. Besides, it is possible to adjust to any deviation from the script if circumstances warrant it.
A live caption service should be handled by a trained human operator who listens to the audio and provides a nearly instantaneous transcription. To make this process effective, you should give a viewport with the caption texts on the same page as the audio.
Quick Check Procedure
When streaming an audio life, check that the web page is functional, featuring a viewport that is connected with the live audio content
Ensure that there is no more than 30 seconds delay before the text of life audio content appears on the viewport
Conclusion
Having checked popular aspects of your website accessibility, there is one thing you should not forget —audio accessibility. This is exceedingly important if you want to keep people's auditory impairments on your website. If not, most of these potential clients will leave your website as soon as they discover that you have no concern for their needs. Generally, audio accessibility checking involves three things. One, providing control for users to pause or stop irritating sounds. Two, providing media alternatives in the form of a transcript or audio descriptions for pre-recorded content. Finally, providing a live caption for live audio so that individuals with auditory challenges are not left behind. If you want to check or scan your whole website's accessibility then take a look at our web accessibility checker reviews.