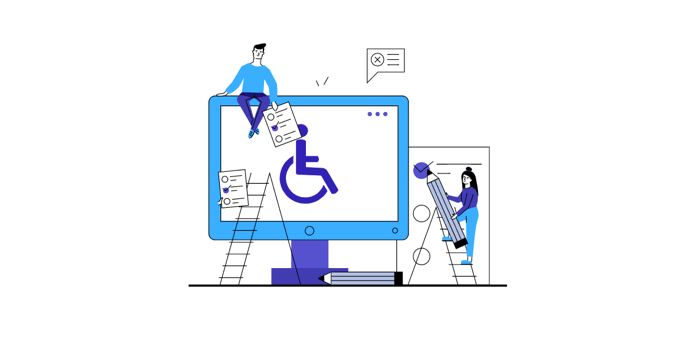 Do you own a website? Or are you responsible for a website? Then you need to make sure your website is updated to the latest accessibility compliance. The development of an accessible website is sometimes a difficult job. But your efforts are rewarded when the content on your website becomes accessible to everyone, including disabled people. On many occasions, information on certain websites is not easy to access because international web accessibility guidelines have not been followed. But how can you be sure your website conforms to the latest compliance standards? We share everything you need to know about web testing tools today.
Web accessibility is reflected in a series of recommendations prepared by specialized organizations that provide accessibility criteria and whose monitoring substantially helps make the contents of a page accessible. Among these recommendations are the Web Content Accessibility Guidelines (WCAG), Section 508, ADA, AODA, etc. What are Web Testing Tools? They are explained in this 2021 guide.
What are Web Testing Tools?
Web accessibility testing tools are also called web accessibility checkers or scans. These web testing scans include a series of automated tools. These tools evaluate a website through the verification of de facto standards of different global accessibility guidelines. The content, design, and accessibility tools are considered, and a list of the strengths and weaknesses of improvement is shared with you. These insights will give you as a website owner the essential parts to improve. According to these programs' automated analyses, these programs can contribute to achieving full accessibility.
Can I depend only on the Web testing tool?
Although there are many variations, a web testing tool is usually a quick and in-depth scan. Depending on which checker you are using, it may not identify all accessibility problems, so it is always advisable to supplement it with a manual review, which is more intuitive and based on personal judgment and expert interpretation.
Besides, it uses specific tools to imitate the way users will access the pages, using, in as much as possible, alternative browsers, access systems, and or techniques. The combination of both technical and manual analysis will contribute to the best achievement of accessibility.
Manual evaluation of compliance criteria
The evaluation by manual verification of each of the web compliance criteria complements the assessment with automatic tools. We use the term "manual" to refer to all those procedures that go beyond "pressing a button" to evaluate the accessibility of a page. Manual verification involves the participation of an analyst familiar with WCAG 2.0 (international standards). This analyst will verify every compliance criterion, being able to use automatic online tools and "extensions" integrated into the browser, complementing their evaluation by navigating the page using:
Just the keyboard.
Various devices -desktop, tablets, mobiles- or a tool to emulate them.
Various browsers (for example, Firefox, Chrome, Explorer, Safari, among others).
It is important to note that each compliance criterion covers various aspects and techniques, so it is impossible to establish a single test that measures each compliance criterion's relevant elements. For example, criterion 1.1.1, "Provide text alternatives for non-text content," has associated various techniques that may or may not be relevant in different situations. Automatic tools only check part of the compliance criteria; therefore, manual evaluation is advisable.
Top Web Testing Tools For Web Accessibility
There is a different kind of scans available. We have listed the various scans and tools below.
1. Homepage Scan
To check a single page on your website for accessibility guidelines compliant reports, there is a lot of software out there to serve you. But due to the variety, choosing the best one can be difficult. Here are a few software programs that will scan your homepage and give accurate results.
Accessible Metrics– this offers a free service that checks a single page on your website. It is easy to set-up and user-friendly. We checked it out, and it met our expectations by delivering accurate and precise reports. Accessible metrics has a paid package that scans multiple pages.
Web Accessibility: it is a software program that carefully goes through your app homepage to detect and report violations of the WCAG guidelines and other accessibility protocols. It can also be used for website pages, and it's free for five checks.
Functional Accessibility Evaluator– this online checker is designed to assess your home and web pages putting the ITAA accessibility policies, which are in line with the WCAG guidelines, into consideration. Its reports are categorized into different sections allowing you to focus on aspects faced with issues carefully.
Operational Control and Analysis for Web Accessibility – This software was designed by Urbilog to thoroughly evaluate webpages and report links that do not meet the WCAG and Section 508 standards. It's easy to use as you can either insert your URL or submit the HTML format.
2. Evaluation Scans
Ensuring that your website and app pages are developed such that they're easily accessible by all users regardless of their personal or technical condition is essential. To boost the idea of a barrier-free web, programmers have developed various software that scans your website and reports violations against the stipulated laws.
WAVE: it's an online checker developed by the famous "WebAIM." It evaluates multiple webpages and gives precise and understandable reports on compliance with WCAG guidelines. Along with its accurate violation detection, it provides practical recommendations on how to fix the issues. It also comes as a Firefox add-on.
AChecker– this is an accessibility evaluator that checks single and multiple HTML pages. Its database includes different web accessibility guidelines, including WCAG, Section 508, BITV, which you can select the one to check your pages for. All you need to do is upload the file or submit the URL.
Accessibility Valvet– this is an accurate web pages checker that thoroughly evaluates your webpages, detects violations, and submits precise reports. It assesses a single URL at a time and places it against WCAG and section 508 standards to evaluate its compliance. If you want it to analyze different pages, you'll have to subscribe to the paid package.
MAGENTA: this software is also called Multi-Analysis of Guidelines by an Enhanced Tool for Accessibility. As its name implies, it can check multiple web pages against different guidelines for conformance. Not only does it scan for the WCAG and STANCA act violations. It also reports links to pages that are against the rules to assist visually-impaired users.
3. Color Checker
For easy accessibility by users with low vision or color blindness, web pages must be chosen to guarantee a good contrast between the text's color and background. There must be the possibility to change the color of the text, the links, and the background. Thus, software programs fix this and ensure that the texts and graphics maintain their legibility and meaning when viewed without colors.
Accessible Colors: with this software, you can manipulate text colors to meet accessibility standards. Inputting HEX codes and changing the size of texts is an easy-peasy task. As you select your background color and insert changes, it'll inform you of wrong steps that violate some standards, so you can easily change them.
WCAG Color Contrast Analyser: it ensures that your websites meet the contrast ratio requirements set by the WCAG for texts. It's unique in that it can also scan text on images and help fix the color gradients. As it's a chrome browser extension, it can be used to read documents in various formats as long as it opens with chrome.
Color Contrast by Userlight: this color checker isn't limited to website pages as it can be used to evaluate mobile apps and screenshots for color contrast violations. To access your app and website, it retrieves sample data from the main screen and compares it. It also checks for color gradients between texts and their backgrounds. Write-ups on images are not left out. Overall, it's one of the best color checkers for WCAG.
WAVE for Chrome: This is an additional package offered by Wave Accessibility Evaluation Tool. It provides concise reports on color contrast coupled with its web accessibility violation feedbacks. All the sampling data are gotten from the chrome pages, and its set-up is easy to use. The only downside is that it does not assess text placed on images accurately. However, its analysis isn't limited to formats like SVG, Jpeg, etc., as it checks out your pages' CSS and HTML codes.
4. Free Checker
In general, the computer and the Internet mainly ended the idea that people with severe physical problems should be excluded and accept, as something definitive, their inability to participate in society. To help promote this important goal, you must know how to improve the accessibility of information available on the Internet without impairing its visual aspect or functionality. Not all rules are mandatory, but free web testing tools are available to ensure that you follow the essential ones.
Accessibility Valvet– this is an accurate webpages checker that carefully analyses your website, detects violations, and generates precise reports for free. It checks one URL at a time and places it against WCAG and section 508 standards to evaluate its compliance. If you want it to scan multiple pages, you'll have to subscribe to the paid package.
Cynthia Says– Cynthia says it is one of the free web testing tools available for use. It validates your content by matching its features with the web accessibility guidelines laid down by section 508, which is also in line with the WCAG. It doesn't scan multiple pages, and it is designed for academic websites.
Eval Access– if you want a perfect free web accessibility checker, but don't mind it being a bit low on ease of use, then Eval Access is the best choice. A university developed it in Spain, and it can analyze your whole website at once. It generates comprehensive reports on your pages' compliance with WCAG 1.0 standards.
5. Quick Checker
We all want detailed and accurate reports on web content as fast as possible. While some software takes hours to evaluate your site, some programs work extra speed to save time. You don't have to bother about wrong results and unreliable percentages as these online testing tools have been tested for their competency. Improve your web accessibility, fix errors, and make your information easy to comprehend by all and sundry with these testing tools
WAVE: WAVE is an online checker that evaluates multiple webpages and gives precise and comprehensible reports without wasting time. It ensures your site's compliance with the WCAG guidelines and other accessibility standards. Along with its accurate violation detection, it gives practical recommendations on how to fix the issues.
Functional Accessibility Evaluator- this rapid web testing tool is designed to analyze your home and web pages against the ITAA accessibility policies, which align with the WCAG guidelines. Its reports are well categorized so that you can focus and fix areas with issues appropriately.
A11Y Color Contrast Accessibility Validator– A11Y is a program that is easy to use and quick to respond to. As color contrast is a vital feature to visually-impaired users, it ensures that your pages comply with WCAG 2.1 guidelines. All you need to do is input color or submit the URL. It also recommends solving contrast and gradient issues.
Conclusion
Considering that Web accessibility means ensuring that websites can be visited and used by as many people as possible, it is necessary to evaluate your Internet content using appropriate tools. For this reason, this article offers a methodological model for choosing the correct automatic solution checkers and tools.