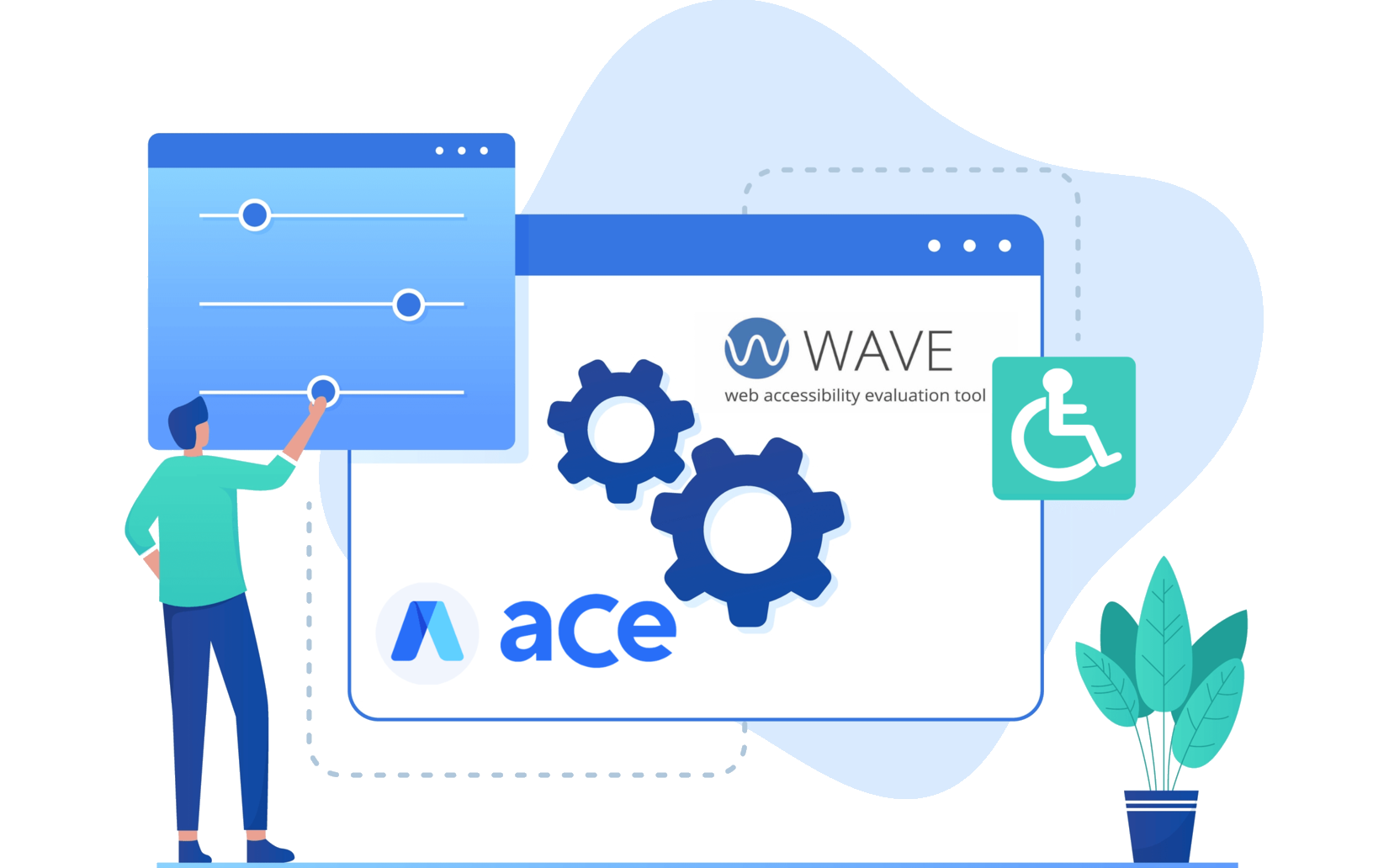 With web accessibility becoming a known fact among web developers and website owners, the popularity of accessibility checkers has spread. Accessibility checkers are extremely useful tools that can help you check your website for WCAG 2.0 compliance. However, it can be hard to know which one is the best for you, with so many checkers out there. To help you decide which one is best for your needs, we've compared the two major players: aCe vs Wave.
aCe vs Wave are free accessibility checkers that can help you check your website for WCAG 2.0 compliance. Ace is a JavaScript-based accessibility checker, while Wave is a PHP-based one. Both checkers are constantly updated, and they are both used by many web developers for their accessibility checking needs.
Ace and Wave can check for any accessibility issues, but they each have features that make them unique. Ace has a handy color-coded interface that makes it easy to see the issues and how severe they are. It also has a handy shortcut for checking for keyboard accessibility. Wave, on the other hand, has a lot of extra features that can be useful for developers, including:
A marked-up version of the site
The ability to check for compliance for each page individually
An easy-to-use interface
The ability to check for compliance for specific functionality
Ace and Wave are both great accessibility checkers, and they each have their unique features. Both have their pros and cons, but it comes down to what you need.
If you're looking for a simple accessibility checker that can check for the most basic compliance issues, then Ace is the best option for you. If you're looking for a more advanced checker that can check for more specific issues, then Wave is the best option for you. But don't just take our word – let's dive into a more detailed explanation!
What is aCe?

Pros:
Free of Charge
High-Quality Customer Support
Easy to Use
Cons:
Limited Scans
Not as Reliable as Other Picks
Ace is one of the easy-to-use and simple web accessibility checkers. With aCe, you can perform scans according to the WCAG 2.0, ADA, Section 508, and more. Additionally, aCe provides an in-depth, comprehensive audit report, which helps you implement web accessibility guidelines on your website.
The accessibility scan with aCe is as simple as it could be. You have to follow three simple steps, and you're done:
Input your Domain URL
Click "Get Result"
Wait for Results
It's that simple! The developers of aCe made their accessibility checker without the need for any complicated formalities. After the check, you get an in-depth audit report with all the issues. The test takes less than a few minutes, but there may be a slight difference in each scan's results. Unfortunately, aCe scans just the homepage without going in-depth in your website's pages.
As you've probably found out on their website, aCe takes care of various accessibility regulations, but after all, the main focus is on WCAG 2.1 AA level. You can get a more in-depth look at the tool in a review of aCe, which features all details. Operated by accessiBe, aCe offers 24/7 live chat support, and you won't have to worry about any issues as they'll help you out anytime! The best part is that aCe doesn't even offer a paid version – any features you get in the free are the premium as well.
What is WAVE?
Pros:
Free of Charge
Detailed Audit Reports
No Dependencies
Cons:
Only Supports Chrome and Firefox
No Live Chat Support
Amongst all the web accessibility checkers, WAVE is one of the promising free checkers that provide extensive audit reports. The scan takes less than 20 seconds on average, and yet it is accurate. After you make a scan, you can check a summary section and find:
Errors
Alerts
Contrast Errors
Structural Elements
WAVE notes any errors that are found during the scan, including contrast errors as well. The issues are found according to the screen readers' usage as well. Any issue that may confuse a screen reader is reported in the summary section after your audit.
The focus is specifically on WCAG 2.0 compliance issues, which are the most crucial ones. Not many accessibility checkers go through those issues and detect them, but the aCe and WAVE successfully passed the WCAG 2.0 standard testing.
Unfortunately, as most of the tools on the web, WAVE also has limited features for the free version. An extensive WAVE review could explain those features in-depth. But WAVE provides a great selection of tools for its price. Despite the lack of live chat and email support, you can always leave feedback, and they'll surely check it out.
Ease of Use
Making such a checker easy to use is crucial as we're searching for something to implement accessibility guidelines easier after all. It shouldn't be hard to use a web accessibility scanner.
When we're comparing aCe and WAVE according to ease of use, we have an obvious winner – aCe. Despite the results not being 100% accurate, aCe offers an easy-to-use interface, and the accessibility scan doesn't require any additional information apart from your domain URL. You don't have to input a phone number or any other information that may be used for confirmation.
Cost Comparison
As we've already mentioned, aCe is 100% free of charge and whatever you get in the free version is also your premium version. The accessiBe developers have already said that this checker is free and will be free.
In the meantime, WAVE offers a great selection of features for free as well. But after some time of using WAVE, you may feel the need to enroll in the premium version and get the most out of it. After all, it's not that costly, and it's surely worth it!
Ace vs WAVE Features
Features can be a key factor when picking between two tools of any kind. After all, the web accessibility scanner should make your life easier and automate a process. The aCe web accessibility scanner provides a great audit report going through a few categories:
Screen Reader Adjustment
Keyboard Navigation Adjustment
User Interface design
Readability Improvements
On the other hand, WAVE goes an extra mile and runs a full website scan, while aCe could sometimes provide inaccurate results. WAVE goes through your whole website, and all its pages extract any issues and then sends you to a summary report featuring the issues grouped in sections, which we've already mentioned. So, the features round goes to WAVE for sure! Results so far 2-1.
Compliance Comparison
We've already gone through the occasional inaccurate results provided by aCe, but what compliance does it offer? Ace follows multiple regulations – ADA, Section 508, EAA/EN301549, ACA, AODA, but mainly – WCAG 2.1 AA level.
While WAVE checks specifically for WCAG 2.0 A/AA level issues. That being said, WAVE provided an extensive compliance check, and compared to other scanners, it's one of the best free ones.
Final Verdict: aCe vs WAVE
aCe
WAVE
Pricing
Free
Free / Paid Plans start at $10.00
Features
Testing Buttons, Links, Controls Tables Optimization
Forms Optimization
Images ALT Text
Readability Optimization
Menu Issues
In-Depth Audit Report
Well-Structured Summary with Issues
Fixes Contrast
Structure Optimization
Coding Issues
Compliance
ADA, Section 508, WCAG 2.0 / 2.1, EAA, EN301549ACA, AODA
ADA, Section 508, WCAG 2.0
Languages Offered
English
English
Customer Service
24/7
Feedback Support Only
Amount of Users
N/A
N/A
Client Packages
Free
Free / You can Purchase Credits and Use them for the Advanced Features
Year of Establishment
2017
2001
Country of Establishment
Israel
USA
Fully Compliant of Partly
Partly
Fully
Free Scans
Available
Available
Free Demo/Trial
Available
Available
Everything so far says that aCe vs WAVE goes 2-2; you should set the final point! You choose the winner by picking the best checker according to your preferences and required features. Both aCe and WAVE offer great scans and find any accessibility issues, but there are a few things to keep in mind.
While aCe could deliver inaccurate results and find new issues after each scan, WAVE finds all issues on your website and groups them into multiple categories. If you do two consecutive scans with aCe, you may even get different results.
But aCe is supposed to be the free version of accessiBe, and the scan is still providing more than enough information to make your homepage accessible. Unfortunately, it's just a checker for the homepage. WAVE, on the other hand, offers a throughout scan of your website.
To be precise, aCe offers a more easy-to-use interface, and there isn't even a premium version of it. You get all the features in the pack for free. Both aCe and WAVE offer different features and ease of use. With that being said, which do you think is the best checker for your needs?