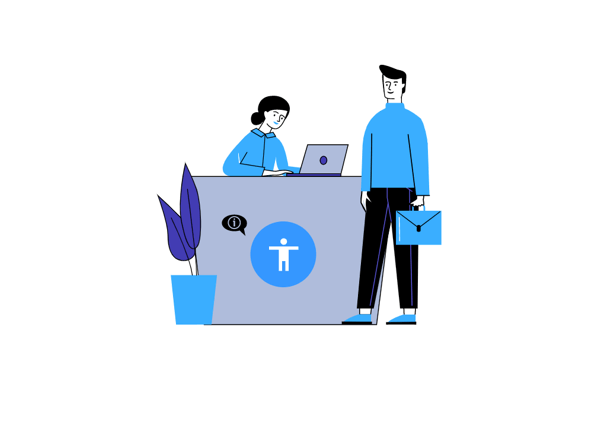 All over the world, there is a change in perception regarding accessibility. You might have noticed there is relatively new technology on your phone or iPad that enables speech recording. Or you can adjust the settings on your computer to improve font sizes and sounds. This all is due to the growing knowledge on web accessibility for people living with a disability. More countries worldwide have laws in place that establish basic accessibility and non-discrimination for the access and use of technologies, products, and services related to the information society. Any means of social communication shouldn't be neglected. Web Legislations are important to understand when you are responsible for a website.
Accessibility in the Society of Information is a right and added value. It guarantees any person's access, regardless of their condition or technological equipment, to the products, environments, and services provided by the web. To reach the objective of inclusion of the online world, we need Web Legislations with clear guidelines that can be followed. Because most people are willing to make their website inclusive to all, but the main factor why only 1% of all websites are accessible is due to the lack of knowledge. Let's dive deeper into the topic of web legislation. What web legislations are there? What web legislation is important per country? You'll find all the answers below.
What are Web Legislations?
Web legislations are also known as Web Accessibility laws. They are guidelines to ensure that people with disabilities can use the web and retrieve the same information as people living without a disability. With Web accessibility laws in place, people with disabilities can perceive, understand, navigate, interact, contribute to the web like anyone else, and more. It also benefits other users, including older individuals with changing capacities, for example, due to aging.
What do Web Accessibility Laws entail?
Web Accessibility Laws are putting the following web components in place:
Content: is the information on a page or web application, including natural details, such as text, image, video, and audio.
Browsers: multimedia content players and other user agents.
Assistive technology: is a technology that is used by people with disabilities and reduced mobility, as is the case with screen reader programs, screen magnifiers, alternative keyboards, among others.
The user's knowledge: experience, and, in some cases, their adaptive strategies for using the web. It involves developers, designers, coders, and authors, including people with disabilities who are developers and users who contribute content.
Authoring tools: software used to create sites websites
Assessment tools: accessibility assessors, HTML validators, CSS validators, among others
Benefits of Web Accessibility Laws
Matching the possibilities of use: accessibility laws ensure that any user can use the web under identical conditions.
Flexibility of use: it caters to a wide range of individuals, preferences, and personal skills.
Simple and intuitive use: they make the web easy to understand, regardless of the user's experience, knowledge, language skills, or level of concentration.
Perceptible information: the guidelines ensure that the Internet effectively provides the necessary information, whatever the existing environmental/physical conditions or the user's sensory capabilities.
Error tolerance: they minimize risks and negative consequences resulting from accidental or involuntary actions.
Minimum physical effort: with web accessibility standards, the Internet can be used efficiently and comfortably, with a minimum of fatigue.
Dimension and space for use and interaction: adequate space and dimension for interaction, handling, and use is made sure, regardless of the user's height, mobility, or posture.
Who Does Web Accessibility Law Benefit?
Web accessibility laws and guidelines are set in place to help people with disabilities use the Internet's full potential. In the absence of accessibility standards, people living with a disability cannot access all the information because of obstacles and barriers. But, when sites are genuinely accessible, people with disabilities can use all the information and services available on the web. To give an example of common barriers, not ordering food online because there is no easy way to access the menu or contact the restaurant and not access a government website for more information about your details. For someone who is blind, images and illustrations are not received if there is no alt. text with a picture description. Screen readers can pick up the alt. text and read the description out loud. All these things are minor adjustments that can quickly be done.
On the other side, when thinking about web accessibility laws and their benefits, it is natural to associate accessibility with social responsibility. Which also helps in improving the image of companies and institutions. Besides that, the number of new customers, people that suddenly can access your website. The democratic availability of services, products, and information for people with disabilities can't be disregarded.
Who is required to follow the Web Accessibility Laws?
The basic requirements for the accessibility of the Internet applications are regulated in almost all countries in the Accessibility Information Technology Ordinance, based on the Worldwide Web Accessibility Guidelines. The directives for this have been mandatory for many years and states that public Internet applications, internal websites (intranet), administration applications, and documents from public bodies must be designed to be barrier-free. These include websites from;
Federation
Countries
Municipalities
Legal persons under public and private law (provided that they perform public interest tasks of a non-commercial nature)
Even if you as a private entrepreneur are not obliged to implement the guidelines for accessibility on your website, it is worth taking this into account:
What Do I Gain from Following Web Legislations Though I am Not Obliged to?
It is worthwhile for you to optimize your online presence accordingly.
By making your website accessible while following the guidelines, you enjoy more benefits such as.
Shorter loading times for your page
Better findability in search engines (SEO)
Optimization for display on mobile devices
User-oriented website navigation
All these points increase the user-friendliness of your site and not only have a positive effect on your customer loyalty but also strengthen the image of your company, which in the long term brings more new and more satisfied customers.
International Web Accessibility Laws
If you understand the importance of web accessibility and you want to improve your website, you should keep in mind that there are different guidelines in place per location. We have listed the standards that are set per country. Here are the Web Legislations applicable per country.
Australia
Australian Disability Discrimination Act of 1992
What it covers:
Easy access to all information online by people with disabilities
Providing different formats of the same information designed for any disability.
Implementing the use of Braille, and other communicating methods like sign languages at no cost
Ensures that private organizations that make use of the Internet and social media allow options that make their information accessible to disabled individuals
Who must comply: all organizations, both public and private, and individuals who own websites or social media pages in Australia. It applies to all purposes, including employment, teaching, personal and professional services, telecommunications, sport, entertainment, etc.
Penalty: Any private or public organization without an easy-to-access website or social media page could be charged for non-compliance; the penalty will be a fine, next to suffering brand damage.
Canada
The Accessible Canada Act
What it covers:
The Accessible Canada Act is an accessibility law that includes more than only online accessibility. It makes sure that people with disabilities can easily purchase goods and request services, have the same access to employment opportunities, access to an easy transport network, and internet access with appropriate tools available to ensure a pleasant experience.
Provisions for an efficient user support service ensure that users can easily report and solve issues related to accessibility.
Who must comply: all organizations under the federal government, including those in both the public and private sectors. They must also follow the WCAG 2.0 AA standard.
Penalty: By 2021, websites that do not have their procedures in line with the act will be charged a $250,000 fine.
2. Accessibility for Ontarians with Disabilities Act (AODA)
What it covers:
The AODA includes webpages involving the transport of goods and services.
Information on technological, private, and public activities on the Internet must have appropriate accessibility features.
Orders NGOs, private, and public sectors to create an effective communicating system that's barrier-free.
Who to comply: Public, private, and non-governmental organizations must develop websites with the appropriate accessibility and authorization tools. They must also comply with the WCAG guidelines (that we describe below), except the pre-recorded audio rule for ear impairment people.
Penalty: Non-compliance and violation on or after 1 January 2021 will mean a $100,000 fine.
All European states
EU Web Accessibility Directive (EN 301 549)
The current EN301 549 guidelines are based on the WCAG 2.1 AA compliance. The guidelines of EN301549 are formulated as a foundation for the EU Member States to create their compliance guidelines. Each member state was expected to have formulated its guidelines per September 2018.
What it covers:
They now constitute, however, a minimum norm for the EU. The standard covers web and smartphone apps, but aside from those protected by WCAG, it also discusses a wide variety of other technologies.
Products of information and communications technologies (ICT);
Products-related services;
Websites
Any specialized telecommunications systems necessary for the provision and routing of alternate communication forms for speech modality (such as text or images) could provide access to services such as emergency calls or relay services for all.
Ensures that all websites and social media content are fully accessible.
Create guides on the use of their accessibility features to boost user's experience.
Set up an excellent user support service to ensure that users can easily report and solve issues related to accessibility.
Who must comply: every website in the European Union needs to comply with the standards. Public sector mobile applications are expected to comply with the specifications by 23 June 2021.
Penalty: Non-compliance will lead to legal actions, fines, unfavorable media reports, and a reduced number of users.
The United Kingdom
Equality Act of 2010
What it covers:
Easy access to the Internet and mobile apps by people with disabilities
Make a statement on their websites about their accessibility strategies.
Applicable to website involving the transport of goods and services, technology, private and public activities.
All mobile apps must follow the guidelines on or before 23 June 2021.
Penalty: Any private or public organization without an easy-to-access website or social media page could be charged for non-compliance, face financial liabilities, and suffer brand damage.
The United States of America
1. Section 508 of the US Rehabilitation Act of 1973
What it covers:
It orders federal agencies to ensure that all websites use tools easily accessed by individuals with disabilities.
Who must comply: Every federal agency based in the US, including branches outside the country.
2. The Americans with Disabilities Act of 1990 (ADA)
What it covers:
Rules against discrimination of persons with impairments
Ensures equal right and opportunity regardless of the physical status
Mandates all tier of government to create an efficient communicating system that's barrier-free.
Ensures effective customer care services for disabled individuals.
Penalty: All websites that do not meet Section 508 and ADA standards could be charged with a fine and suffer a brand backlash.
Japan
JIS X 8341-3 Standard
What it covers
Ensures that the web and media pages are easy to understand by disabled persons and oldies.
Applicable to website involving the transport of goods and services, technology, private and public activities.
Providing different formats of the same information to meet all requirements at no extra cost.
Who must comply: it applies to all federal public sectors and agencies.
Penalty: Non-compliance will lead to legal actions, financial charges, and unfavorable media reports.
Israel
The Equal Rights for People with Disabilities Act of 2013
What it covers:
Accessibility for people with disabilities and the elderly to the information provided by electronic means
Expressly deals with web accessibility for institutional pages, on services of the information society, and electronic commerce.
Require that the Internet pages whose design or maintenance are financed apply the accessibility criteria at no cost
Who must comply: ministries, enterprises, government agencies, NGOs, etc.
Penalty: Any organization with a website or media page guilty of non-compliance to the rules will face a monetary charge of NIS 50,000 and reputation damage.
Italy
Stanca Act
In 2004 the Stanca Act, an Italian law, was introduced to encourage accessibility of information technology. The legislation is introduced to improve all Italian websites, including the Italian government.
What it covers:
Ensures equal advantages, non-discrimination, and universal accessibility of disabled individuals.
Covers all governmental organizations and web assets
Adequate access and use of technologies, products, and services related to the information society and social communication media
Who must comply: Stanca Act applies to private and public sectors, municipalities, companies, including telecommunication sectors that the government controls both fully or partially.
Penalty: Non-compliance to the Stanca act will lead to legal actions, fines, and loss of loyal customers.
Germany
Equal Opportunity Act
What it covers:
Ensures that the primary language of a document and summaries of the data tables must be indicated and included
The navigation order utilizing the key Tab must be logical through links, controls, and objects.
It covers the principle of accessibility to information and services by electronic means through systems that allow obtaining them safely and understandably, especially guaranteeing universal access to the design so that all people can exercise their rights under similar conditions.
Who must comply: federal organizations, enterprises, institutions controlled by the government, and federation foundations.
Penalty: All websites that do not meet the Equal Opportunity Act standards could be charged and suffer brand damages, amount of the fine changes per case.
WCAG guidelines
How to comply with Web Accessibility Laws
You can start optimizing your website in line with accessibility standards using these simple tips:
Structure your website clearly and understandably: The structure of a website is important for accessibility. All content must be accessible with just a few clicks. Pay attention to a standardized text structure in headings, sub-headings, paragraphs, and lists.
Fill in alternative texts for pictures: Users with visual impairments often use screen reader software, which reads out the screen display or reproduces it. However, this software cannot recognize images and "translate" what is shown. Alt texts are essential here to still give the user an impression of the integrated images.
Set a sufficient color contrast: Make sure there is good contrast between your website's foreground and background.
Use simple language: Make sure that the language is easy to understand and that the wording is clear.
Offer subtitles for videos: Subtitles should be a must for your videos. Most people who visit your site while on the move want to view your content without switching on the sound. You also ensure that people with hearing problems can again hear all of the content.
Conclusion
Accessibility indicates the ease with which something can be used, visited, or accessed in general by all people, especially by those who have some form of disability. It is a requirement that environments, products, and services must meet to be understandable, usable, and practicable by all people. In environments that can be in the form of an elevator provides accessibility for someone in a wheelchair or with a trolly. With online services, it is what we mentioned in this article.
The Internet is improving thanks to the accessibility standards of the web content that has been published since the nineties. Especially the WCAG guidelines of the World Wide Web Consortium and the legislation derived from it. Removing technological barriers on the Internet and achieving an increase in social awareness is close to realization. The laws demand compliance with minimum requirements for web accessibility, taking into account that its benefits are not only for disabled or elderly people but that web accessibility is important for everyone.