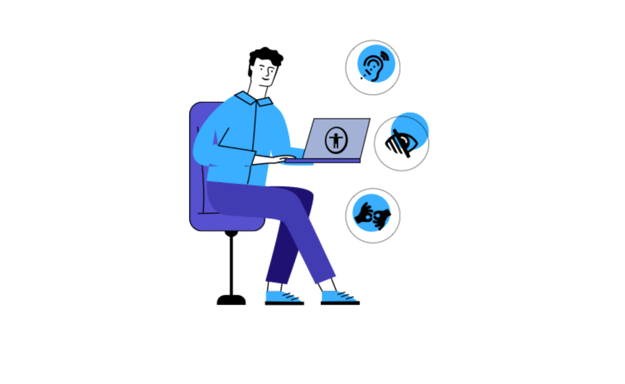 Each one of us is unique, possessing different characteristics and living a different life than everybody else. Nonetheless, many of us have several common abilities and skills that, due to different situations. Whereas, some individuals lose or are yet to develop in the same vein as the majority of the population. In principle, the Internet makes it easier for people with disabilities, to participate in social, cultural, and professional behavior in a self-determined manner. In continuance, this means a significantly higher degree of independence. Paradoxically, those who particularly benefit from the Internet's possibilities can only use the medium with difficulty or not at all. Check out our disabilities guide and make sure you understand the common barriers.
What are Disabilities?
As mentioned, disability is any situation in which a subject has limits in their participation. For instance, to some field of action due to some organ or intellectual capacity deficiency. It is in itself the existence of a limitation, not being a cause but a consequence.
Disability occurs when a person's functional abilities do not respond properly. This might rise by the physical and social environment in which they live. It puts them in an unfair situation of disadvantage and inequity. Therefore accessibility is an obstacle that should involve all of us.
How do disabilities affect the use of the Web?
People with disabilities confront great difficulties using the Internet, mainly developed by and for able users. Individuals with visual impairments see themselves confronted with enormous barriers in the visually oriented medium of the Internet since they cannot use optically conveyed information.
In general, barriers related to the lack of adequate subtitles to perceive audio and text without visual cues, block hearing-impair users. People with dyslexia or dyscalculia also have trouble processing language and numbers. In contrast, those with attention deficit disorders have difficulty concentrating and understanding content properly.
As people age, we undergo a series of changes that can affect our abilities, just as disabilities do. For example, an older person with cataracts problems could suffer barriers similar to those suffered by a low vision.
Why the need to make the Web accessible for disabled individuals?
Suppose technology makes life easier for most people, for a person with special needs. In that case, technology can open up a range of new opportunities and possibilities located beyond any physical or social obstacle. The Internet contributes to improving the quality of life and well-being of all citizens. This means that everyone must have access, not only to new information technologies but, above all, that everyone must have the effective possibility of using them.
Therefore, we must ensure access to the benefits of the Internet, as far as possible, without discrimination or exclusion. For this reason, it is necessary to consider the characteristics and requirements of citizens with special needs. In this context, it is up to everyone to ensure that the information made available on the Internet can be understood and searchable by citizens with special needs, ensuring that appropriate technical solutions are adopted to achieve this objective. This is accessibility.
Common Disabilities That Experience Barriers on the Web
To accurately determine the difficulties experienced by disabled individuals when using the computer, it is necessary to analyze its anatomy, accurately determine the body processes necessary for its use and the problems they raise, and then look for ways to solve them.
Audio Disability
Definition
Deafness: A person that lacks the ability to hear. If this impairment is innate, the person affected cannot learn a spoken language either, which, without appropriate therapeutic measures, can lead to the development of no language skills whatsoever.
Barriers for people with auditory disabilities
At first glance, people with impaired hearing appear to face few barriers on the Internet. However, in doing so, it overlooks the fact that damage to hearing, can occasionally result in reduced linguistic competence. Especially in people who are deaf from birth. This user group may have problems with complicated sentence structures and specialist vocabulary.
Nevertheless, acoustic information is not accessible to all and unlimited but merely as an additional offer provided by the few. In addition, ever-increasing bandwidths and expanded technical possibilities processing information, using multimedia increases. In most cases, the visual level is insufficient without the acoustic supplement to fully convey or understand the content.
Assistive technologies and adaptive strategies
For the completely deaf, there are hardly any assistive technologies that help to make information accessible on an acoustic level. In rare cases, there are
Cochlear implants- computer chips with an integrated microphone that picks up acoustic information, converts it into electrical currents and passes it on to the auditory nerve fibers
Speech conversion products- can convert spoken words into written texts, transfer them and output them. It enables people with hearing impairments to communicate via telephone lines using TTY ( Teletypewriter ) or TDD ( Telecommunication Devices for the Deaf ).
Optical signals ( e.g., flashing, signal lamps, etc. ) can replace acoustic indications that indicate the receipt of a new email, for example.
Visual impairments
Definition
The spectrum of visual impairments is broad. It ranges from nearsightedness and farsightedness to night blindness and fish eye.
Blindness
On the one hand, this term subsumes people who have no eyesight and those who perceive certain optical stimuli ( e.g., change from light to dark) but can hardly benefit from this visual information.
Barriers that blind people encounter on the Web
Images without alt text, complex images (graphs or tables) that are not adequately described.
Videos without a textual explanation or audio description.
Tables that do not make sense when a screen reader reads the content because it is not correctly linearized
Browsers and authoring tools that do not have keyboard support for all documents without a standard format can make them difficult to read with screen reader software.
Color blindness
This type of visual impairment is more common than you might expect, especially in men. For instance, about 8 percent of them suffer from a color sensation disorder. Furthermore, there is a distinction between the complete inability to recognize colors (achromatopsia) and the loss of color perception of one (dichromacy) or two (monochromatism) of the three basic colors. Contrary to popular belief, many color-blind individuals can recognize but not differentiate between colors.
Barriers that people with color blindness encounter on the Web
Use color to highlight a text on the website or indicate some relevant information of the content. An example of this is when, informs are mandatory fields and indicated with a red text.
Text where the background color improperly contrasts with the foreground color.
Browsers that do not allow the user to change the CSS style sheet.
Assistive technologies and adaptive strategies
Naturally, for people who suffer from impaired vision disability, magnification software can be sufficient to operate a computer and the Internet.
Screen magnifiers- always show a specific enlarged section of the screen. The user can use this section for targeted enlargement, similar to a magnifying glass.
Blind people rely on special output devices. Screen readers and Braille displays are the most usable in this context. All elements, the content of graphics and text, may come from loudspeakers in a form of speach to the user.
Most visually impaired people use a keyboard as an input device. As an alternative, software solutions offer computers and websites to oparate using voice.
Cognitive disability
Definition
It implies a series of significant limitations in the person's ability to function in their daily lives, understand the environment, and interact with it.
Meanwhile, people with intellectual disabilities have difficulties in cognitive skills, that is, all those related to information processing:
attention
perception
memory
problem solving
understanding
establishing analogies
Barriers For People with Cognitive Disabilities
People with dyslexia or dyscalculia have trouble processing language and numbers. In these cases, it is necessary to offer various alternatives to access the same information.
People with learning disabilities take more time to learn new concepts and have more difficulty understanding complex concepts.
Its access barriers are related to web pages' complex language, the lack of images that complement the textual information, and the lack of a clear and consistent website.
People with memory impairments have problems with short-term and long-term memory (recent or distant memories). The barriers are related to the lack of clear and consistent organization of the website.
Some people with compulsive disorders may have epilepsy (photosensitive epilepsy) that manifests itself with the blinking of images or sounds with certain frequencies. The specifics that cause the most impact are intermittent visual elements or annoying audio frequencies because they trigger users' seizures.
Assistive technologies and adaptive strategies
In the case of impairments of this kind, the possibilities to remedy the situation with assistive technologies and systems are very limited.
The operation of an application can be reduced using learning software.
To make it easier to understand the content, it is often sufficient to optimize the corresponding page for output on the printer or offer a corresponding cascading style sheet.
Monitors themselves emit light, whereas paper only reflects it. The resulting lower contrast may be easier for sensitive to glare and light users to read from the paper.
Physical Disability
Definition
Many understand this term to mean impairments of the musculoskeletal system. This leads in, primarily think of people who are wheelchair users. Instead, due to motor impairment in ​​the hands, what is meant are those who cannot use them or can only use them with special aids to operate a computer and thus a website. The range of causal diseases is wide and ranges from multiple sclerosis and arthritis to muscular dystrophy.
Barriers For People with Physical Disabilities
In general, users with motor disabilities are most severely affected by interface barriers. That requires the use of a mouse or keyboard. Barriers these people encounter on the Web can include:
Web pages that update automatically,
Browsers or authoring tools without suitable alternative support for keyboard or mouse commands,
Forms that cannot be traversed in a logical order to enter the data,
Small interaction areas.
Assistive technologies and adaptive strategies
In particular, people with restricted mobility cannot use conventional input devices or only use them to a limited extent.
There is a wide range of different types of special keyboards. Among other things, there are those with exceptionally large and extremely small keys, with special key assignments, and also those that have been specially developed for one-handed operation.
Trackball systems can be used as an alternative to the standard mouse.
With electronic pointing devices, the mouse pointer can be controlled in a wide variety of ways, for example, using ultrasound, eye movements, nerve signals, and even brain waves.
Some people are so severely restricted in their motor skills that they are completely unable to move large parts of their body in a controlled manner. There are systems for them that make it possible to operate the computer using their breath.
Speech Disorders
Definition
Speech disorders take place in the intellectual area. Those affected are unable to form or understand grammatically correct sentences.
Loss of speech (aphasia), which is also a language disorder, can, in principle, affect any area. In some cases, those affected find it difficult to form sentences even though they understand what is being said or miss individual words. Conversely, speech understanding may have been partially lost, although speech production is working perfectly.
Barriers for people with Speech Disorders
People with speech difficulties face barriers like:
Inability to use voice-based features
Hotlines and services with voice commands
Websites with a contact over phone calls only
Assistive technologies and adaptive strategies
Keyboard commands
Alternative communicating modes(SMS, Chats, emails)
Customer support services should include feedback forms.
Conclusion
Accessibility on the Internet in societies with high social responsibility standards and technological development must translate into a social requirement, a technological and economic added value. But also into a quality of life factor to which everyone should be entitled.
In this article, the concept of accessibility for users with special needs, the situations that users face, and the environment in which they use the Internet were analyzed. To this end, cooperation between users, manufacturers, and service providers are essential.
---