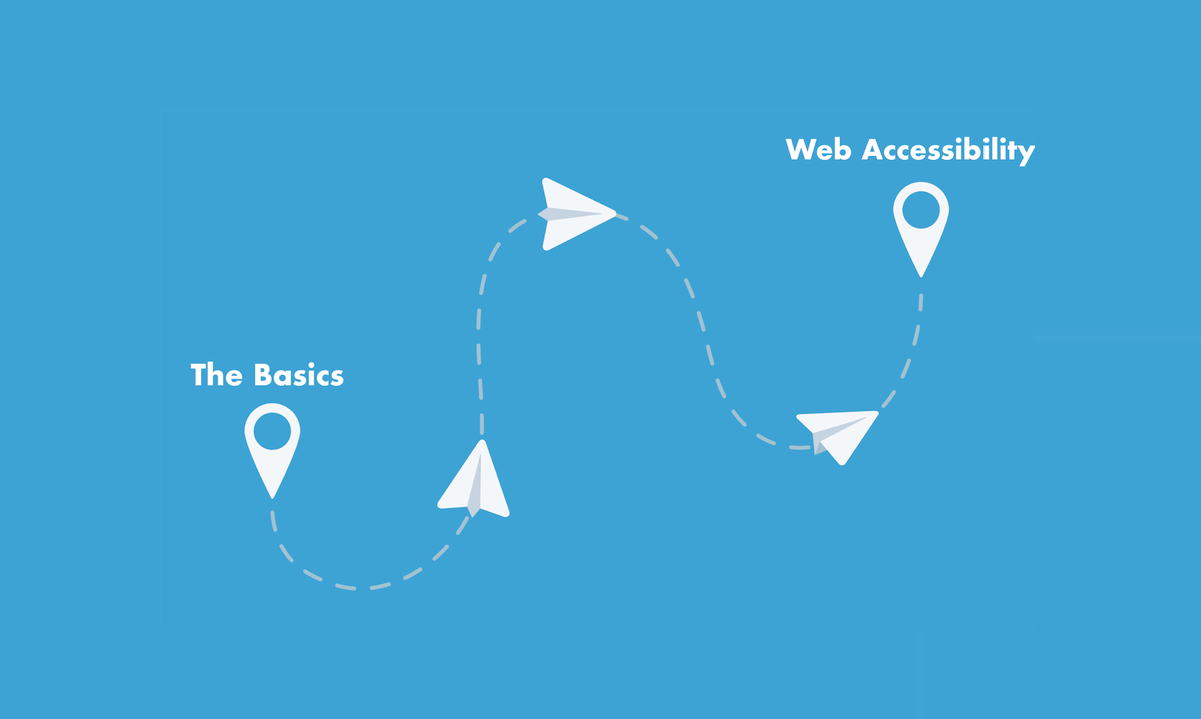 Did you know that of every four adults in the U.S., 1 of them has some disability? That is 25% of the total U.S. population having difficulty in carrying out mainstream daily tasks. This also includes surfing the web and accessing its content. So, what is website accessibility? It is the ideology that websites and digital content should be designed to allow people with disabilities to access them. However, this is not limited to people with disabilities only. It refers to the aim of removing as many barriers as possible to make your digital content accessible to the general public. By the end of this article, you will have covered all the basics you should know about website accessibility.
1. The Start of Website Accessibility
1.1 History of Website Accessibility the Basics
The rehabilitation Act of 1973 was the turning point for people with disabilities. This act became the root of website accessibility. The law prohibits federal agencies from discrimination against people with disabilities.
Around 30 years ago, the Americans with Disabilities Act (ADA) was signed by the President of the time, George H.W. Bush. Title 3 of the act prohibits discrimination against persons with disabilities in public accommodations. Later, the Department of Justice (DOJ) nodded in the affirmation that websites are considered as a place of public accommodation.
In 1998, section 508 of the Rehabilitation Act was amended to cater to digital accessibility. A year later, the first Web Content Accessibility Guidelines (WCAG) were published.
1.2 First reported case of Website Accessibility
In 2017, a blind man named Juan Carlos Gil filed a lawsuit against Winn Dixie Stores Inc. He filed the suit because he could not use their website through a screen reader software. The court decided in favor of the blind man since websites are interpreted as a place of public accommodation and should be accessible according to the Title 3 of ADA. The store had to spend USD 250,000 to make its website in compliance with the law. Gil vs. Winn Dixie case became a precedent for future cases of website accessibility.
2. Web Accessibility Explained
2.1 Laws and their international compliance
The World Wide Web Consortium (W3C) keeps a list of policies. Each country has its own set of laws that covers website accessibility. In the USA, Section 508 of the Rehabilitation Act (amended) and the Americans with Disabilities Act (ADA) is implemented. While European Union has EN 301 549, and the UK has Accessibility regulations as their set of laws to cater to website accessibility.
2.2 Effect of non-compliance
Negligence and failure to comply with these laws will get you a lawsuit filed in your name. Over the last years, there has been a drastic increase in the number of lawsuits being filed. There were 11,053 Title 3 lawsuits filed in 2019. This number shows the significance of complying with website accessibility.
2.3 Guidelines
W3C developed the first guidelines for web accessibility in 1999. The first Web Content Accessibility Guidelines (WCAG 1.0) consisted of 14 specifications. They covered the basics to achieve accessibility.
In 2008, WCAG 2.0 was published having four principles. These principles are:
Perceivable means that the content must be perceived easily, and nothing is left undetected.
Operable means that the users must be able to operate the website in different ways.
Understandable implies that the users must understand the content present on the web page and not have any issues.
Robust means that the content must have the ability to function by a wide range of users, including assistive technologies.
The next and currently the latest version is WCAG 2.1, which was published in 2018. W3C recommends complying with this version. These guidelines rank accessibility on three different levels, each stricter than the previous.
The first level is level A, which is very basic and has the minimum requirements. The next is AA which is a medium level of accessibility and is good enough to achieve accessibility. The most challenging and most complex level is AAA which is not very practical to pull off. It is recommended to at least attain level AA of WCAG accessibility rankings.
2.4 Disabilities to focus
Following are some of the most common disabilities that become barriers to access web content.
This is the most common disability that people suffer from while surfing the internet. Visual impairment includes complete blindness, low vision, color blindness, etc. Around 2.2 billion people globally have this form of disability.
According to WHO, it is projected that by the year 2025, almost 2.5 billion people will have some hearing loss. This shows the magnitude of impact this impairment will cause in the future. Hearing disability creates difficulties in using websites that have information in the form of audio and videos.
Mobility or motor impairment includes injuries that may be temporary or permanent. This results in facing difficulties while using a mouse or keyboard for interaction with the computer. Apart from accidental injuries, this impairment also occurs due to old age.
Cognitive impairment is a neurological disability that means that the person might have trouble thinking and understanding the internet's content. This disability does not have anything to do with age and can occur at any stage of life.
3. Achieving Web Accessibility
3.1 How to achieve accessibility?
Achieving the AA level of WCAG is not the hardest nut to crack. Implementation can be done by focusing on each disability and applying the following solutions.

For people with visual impairment, provide alt text for images. This can help them understand what is on the screen using screen reader software. Build your website so that a screen magnifier can zoom in it up to 200% without breaking the web page's content.

Persons who have auditory limitations can benefit from adding subtitles and captions in the audio and videos present on the website. They can read the text and understand what is being said.
Making your website keyboard usable only will help in catering to the people who have motor disabilities. Because using a mouse in these circumstances could be very troublesome, a keyboard-only accessible website could solve the majority of the problem.

Lastly, people with cognitive impairment need to insert content easily understandable and does not contain jargon. Use proper color contrast so that seizures do not happen to users while interacting. Leave a lot of blank space to make it even easier for them to navigate around.
3.2 List of Recommendations to implement
Use alt text with images
Insert caption in videos
Use assistive technologies such as using screen magnifiers
Check if your webpage can be accessed using the keyboard only
Use adaptive strategies such as increasing the text size in headings
Test webpages on mobile devices
Provide transcript in the content
Use proper color contrast
Have sufficient blank space in content so that it becomes easier to access
Use accessible PDFs for your content
Check if all the forms on the website are accessible or not
3.3 Accessibility solutions jumping into the market
Since a lot of lawsuits are being filed and people are losing their money in penalties, accessibility-providing websites have entered the market. They test your website and provide a solution to make it compliant with the WCAG. Using these services can also help you achieve website accessibility.
AccessiBe is an example of such a solution provider. It was founded in 2018 and since then became the leading choice of many website owners. To make the entire internet accessible by 2025, it is one of the best accessibility providers in the world right now.
Another great automated accessibility solution provider is UserWay. This service provider is the choice of more than 980,000 users around the globe.
3.4 Evaluation of accessibility
The most important thing to remember is to identify accessibility issues as early as possible. Do a self-assessment by acting as a user of the website. Find topics by evaluating each webpage manually. However, this might not be the best practice and will consume a lot of time. You can also use automated software and websites for evaluation. These consist of pre-written programs that process many web pages in one go. The only downside is the repetition of the checking process. The best way to do testing is to use both methods simultaneously. Going hybrid will make sure that the evaluation is done properly and in every aspect.
4. Effects
4.1 Benefits
Complying with the accessibility laws does not only save you from lawsuits, but it also has many other benefits. The most significant benefit is that the website does not crash due to slow internet and runs smoothly on tablets and mobile devices as well.
Other advantages include reduced maintenance cost since your website would already be in an optimal position, and updating it will not cost much. Making your website accessible also increases its ranking and does the job of SEO. Brand image is enhanced too since Corporate Social Responsibility (CSR) is achieved through accessibility.
4.2 Brands stepping up for accessibility
Big names like Apple, Windows, and Facebook, etc., have also shown their accessibility concern.
Windows launched its on-screen keyboard in 2000. They further added a text-to-speech option as a measure of making their interface accessible. On the other hand, Apple introduced VoiceOver in 2005, which is a screen reading feature. They have also included accessibility features in their devices, such as their watches, to achieve accessibility.
Bottomline
To conclude this guide, we must acknowledge how technology has become more than essential in the current era. It has brought people closer like never. The significance of achieving accessibility has been of supreme importance. This does not mean you have to attain absolute accessibility. Just be practical, follow the guidelines, comply with the laws, and you are good to go.