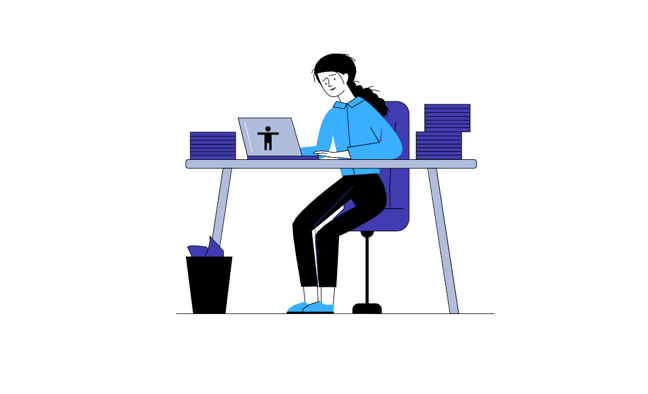 Web accessibility in the 21st century is part of the movement of social commitment. Always having appropriate information, removing digital barriers, and increasing productivity. Not to mention contributing to the growth of your website audience and its positioning. Undoubtedly, web accessibility guidelines in this century are a fundamental pillar for the inclusive and accessible online economy. Most definitively they generate, among other things, economic activation and job creation. Let's get to know all the web accessibility compliance guidelines.
What is Compliance?
Compliance is when a website or social media page has features that align with the functional and technical guidelines. These specifications might be specific to the country or laid down by the WAI. For your website to be compliant, it has to include tools and features. This ensures to make it accessible to all, regardless of their technical or physical conditions.
What are Web Accessibility Compliance Guidelines?
We must understand that web accessibility guidelines allow everyone to access knowledge and information without stress. They increase the possibility of inequality and equity of conditions, especially in personal and professional development opportunities. Likewise, favoring social inclusion and the active participation of citizens in the so-called information society.
Why the need to comply with Web Accessibility Guidelines?
Web accessibility in the 21st century is a powerful tool for the active fight to close the digital divide. That is why it must actively promote design organizational strategies and public policies. This allows everyone to connect through information and communication technologies. It is also a fundamental action in society's technological and cultural development, both in the medium and long term.
It must be evident that promoting, developing, and applying web accessibility guidelines help stimulate and encourage innovation. They also improve, strengthen, and boost the brand.
Compliance Guidelines for Web Accessibility
Web accessibility compliance is based on guidelines, laws, and standards with which websites must comply to improve their digital accessibility. Let's check out some legal web accessibility guidelines and rules to ensure that we know what they entail and how to be compliant.
ADA
The Americans with Disabilities Act (ADA) is a comprehensive civil rights law. Set to protect our fellow citizens with disabilities from online discrimination by not giving access. The Law has a broad scope as it applies to national and local administrations, public and private spaces, Ework, building codes, transport, and telecommunication.
The ADA compliance guidelines:
The ADA lacks adequate information and specific guidelines on what websites or applications should follow to be compliant. There are no standards to base your website compliance on digital accessibility in a situation like this. But this doesn't mean you won't be open to lawsuits if a court finds you guilty. To solve this issue, ADA mandates Web creators and managers to develop barrier-free websites by following the WCAG 2.1 guidelines.
Who to comply: Every federal agency within the US, including branches outside the country.
Penalty: All websites that go against the ADA discrimination rules are open to scrutiny and suffer a brand backlash.
WCAG
WCAG (Web Content Accessibility Guidelines) are web accessibility guidelines for online content. That is, they are rules that explain how to make web content accessible to everyone. The W3C developed them – World Wide Web consortium, through the WAI (Web Accessibility Initiative), in collaboration with people and organizations worldwide. WCAG 2.0 Level A became the standard for Indian government websites in February 2009.
WCAG 1.0
In 1999 the first version of the WCAG came out. It contained 14 basic guidelines for different content types of accessibility. Each policy contains a series of checkpoints used to check the accessibility of the web pages. In turn, these points associate with three levels of severity according to the weight of the barrier described in this point.
WCAG 2.0
The second version of these guidelines (WCAG 2.0) publishes on December 11, 2008. It included a new organization and document structure divided into four basic principles:
perceptibility
operability
understanding
robustness
In continuance, another 13 guidelines, which contain evaluable success criteria, regardless of the technology used, were built. From there, it divides into three levels of accessibility (A, AA, and AAA), similar to the priority levels of WCAG 1.0. New Zealand adopted the WCAG 2.0 guidelines with an AA criterion.
WCAG 2.1
Finally, the current version of the guidelines is WCAG 2.1, published on June 5, 2018, and expanded the available guidelines and criteria while maintaining the same structure as WCAG 2.0.
Who to comply: The legislation obliges public administration worldwide and the organizations that depend on it economically – to make their web pages accessible. The Law has also extended the obligation to pages of contractors, companies, and federal agencies that provide services to the general public.
Penalty: monetary charges up to $55,000 for initial non-compliance; double the amount is the penalty for subsequent charges.
Section 508
Section 508, is a US government rehabilitation act of 1973 that covers operating systems, internet websites, Android phones, online training, and all other activities that tend to breed web inaccessibility by the disabled. This section renewed on January 18, 2018, orders federal agencies to make certain that all websites use tools easily accessed by individuals with disabilities.
We must all adapt to the rule in conjunction with the WCAG 2.1 guidelines.
Who to comply: Every federal agency is based in the US, including branches outside the country.
Penalty: Any federal agency or public organization without easy access to the website or social media page may face charges for non-compliance, punished in monetary form, and suffer brand damage.
AODA
Concerning web content exists the Canadian 2005 Accessibility for Ontarians with Disabilities Act, which consists of web accessibility guidelines that assess and measure the degree of accessibility of web content, reducing or eliminating the barriers detected. It makes sure that access to goods and services, technology, private and public activities is discrimination-free.
Who to comply: Public, private, and non-governmental organizations must develop websites with the appropriate accessibility and authorization tools. They must also comply with the WCAG guidelines, except the pre-recorded audio rule for ear impairment people.
Penalty: Non-compliance and violation on or after January 1, 2021, will attract a $100,000 fine.
HIPAA
The Health Insurance Portability and Accountability Act (HIPAA) is a set of standards that US healthcare organizations must comply with to protect information. They are comprehensive and objective, addressing the identification and protection against threats to the security or integrity of data, as well as against unauthorized or inadmissible uses or disclosures.
However, it addresses issues not limited to typical day-to-day privacy. Thinking about HIPAA, what it is, and how to adapt is also thinking about technical issues, including assessing the institution's size, complexity, and capacity. As a result, HIPAA applies to US organizations only.
Who to comply: health insurance companies, health centers funded by the government, doctors, pharmacists, and other healthcare workers.
Penalty: As a result, non-compliance and the violation will attract $100 to $50,000 for each occurrence. It must, however, not exceed $1.5 million in a year.
GDPR
Until May 25, 2018, the guidelines on personal information concerning privacy were a bit vain. The Data Protection Directive (1995) provided some necessary policies, but it just wasn't good enough.
Therefore, GDPR aims to ensure that information is managed responsibly by any company dealing with personal data and privacy. As a result, It applies to all European Union member states, including Hungary and Sweden.
The principles described are not rules as such but rather a summary of the fundamental aspects, which we all need to follow when creating acceptable data protection practices. The right of access gave people the ability to understand how and why companies use data. This ensures that your information is used legally.
Who to comply: includes all organizations that process individual data of citizens of the European Union. This is the case even with companies that employ fewer than 250 employees.
Penalty: If individuals or companies do not comply with the principles, they could be fined up to € 20 million, or 4% of their annual worldwide turnover (whichever is greater).
COPPA
COPPA corresponds to the abbreviation of the Law that received the denomination of the Children's Online Privacy Protection Act, approved by Congress in 1998.
This Law aimed to regulate personal data retrieval from children under 13 years by operators of commercial Internet sites. The Act in question established that the operator of a website aimed at children or an online service that is collecting information from children must:
inform, through a notice on the website, what type of information is being collected, how it is used, and whether it is disclosed to third parties;
obtaining parental or guardian consent for the activity of collecting, using, or disclosing personal information from children;
respond to parents, at their request, the type of information collected so that, in this way, they can have the chance to control the collection and use of their children's personal information.
Who to comply: websites that need to retrieve data from users below the age of 13. US websites should obey COPPA rules. But it is also directed towards other pages that request US citizen's data.
Penalty: going against the stipulated rules could get you an $11,000 fine. It also depends on the website as YouTube and others charge up to $42,530.
FERPA
The FERPA Act includes web accessibility guidelines involving academic records and all other records maintained by schools or educational entities about students.
In compliance with the FERPA Act, it gives parents of students (as well as postsecondary students) the right to review and confirm the integrity of the academic record's content. Recently, per the WCAG guidelines, they ensure that improving web accessibility extends to the technology tools used in keeping records.
In line with the FERPA Act's provisions, upon reaching 18 or upon entering postsecondary educational institutions, students are considered eligible, and these rights are transferred to them. However, parents still reserve the right to access their children's academic records if they continue to declare them as dependents for tax purposes. It's up to educational websites to ensure that they do not violate any rules.
Who to comply: All website-owned schools funded and controlled by the US government.
Penalty: Any institution or agency's violation will attract a fine of $100-$1.5 million. The amount depends on how severe the non-compliance is.
ATAG
The ATAG (Authoring Tool Accessibility Guidelines) or Accessibility Guidelines for Authoring Tools are standards that authoring equipment must comply with to be accessible and generate usable content. These tools are software used to create pages and Web content one of the main objectives of the ATAG. In addition, they define how the tools help developers produce content that complies with the WCAG (Content Accessibility Guidelines on the Web). Web).
The ATAG 2.0 guidelines give recommendations for authoring tools to produce web content that conforms to WCAG 2.0. Therefore they will be the guidelines that will be covered in this area. ATAG is mainly for UK websites, but it was adopted by the US recently.
Who to comply: All old and new websites.
CVAA
The Communication and Video Accessibility Act was written to ensure that disabled individuals can access a website. Specifically, the ones that offer products and services in video mode while enabling a good experience. The CVAA ensures that people with impairments or disabilities can enjoy the surrealness of watching video content on a screen.
Who to comply: websites that offer services in video mode and their content distributors. Video contents in general, as well as messaging services, are also applicable.
Penalty: you could be charged up to $100,000 per negligence of rules.
EN301549
EN 301 549 accessibility requirements of products and ICT services to public procurement in Europe resulted from the European Commission's mandate. It aimed to develop a European standard of functional accessibility requirements in the public procurement of ICT products and services. Also to ensure that they were accessible to all. Spain and Germany adopted the EN301549, and it has been their standard since then.
In November 2019, the new version 3.1.1 was approved, and it entered into force when it was published in the Official Journal of the European Union on April 23, 2020. Norway and France embraced the changes made to the EN301549 and put them into action.
As the directive regulates. The accessibility requirements of certain products and services in Europe must adapt before June 28, 2022. To date, the EN301 549 is being complied by public sectors in Italy and Ireland. As well as other non-governmental and mobile applications' websites.
Compliance guidelines: every European Union states.
Penalty Scheme: Non-compliance will lead to legal actions, fines, unfavorable media reports, and a reduced number of users.
Conclusion of Compliance Guidelines
To make sure access to content is possible, there are specific rules and requirements that web pages must comply with. In the field of web accessibility, these standards and requirements are called "guidelines". They aim to eliminate or reduce the barriers that hinder access. Compliance with the guidelines contributes to making the content more accessible to all people, with or without disabilities, including, of course, people who use various support products (visual, auditory, motor, or others) to access the web.
---
Next Article: Web Testing Tools Guide