Overview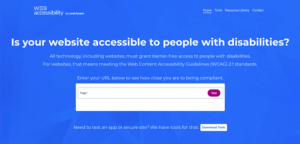 Level Access WebAccessibility Tool, you will see that this platform provides users with a free scan to start their journey of making their website accessible and help them achieve compliance.
After testing your site, WebAccessibility provides you with a compliance score, your site's violations, and how to rectify those errors. WebAccessibility's services are not limited to just websites; they also provide their services to android and iOS devices. 
WebAccessibility promises to make your website compliant with Section 508 and 255, WCAG2 A, WCAG2 AA, 508 Refresh, WCAG2.1 Level A, and WCAG2.1 Level AA. It comes with a series of tools that help you make your website compliant with government regulations.