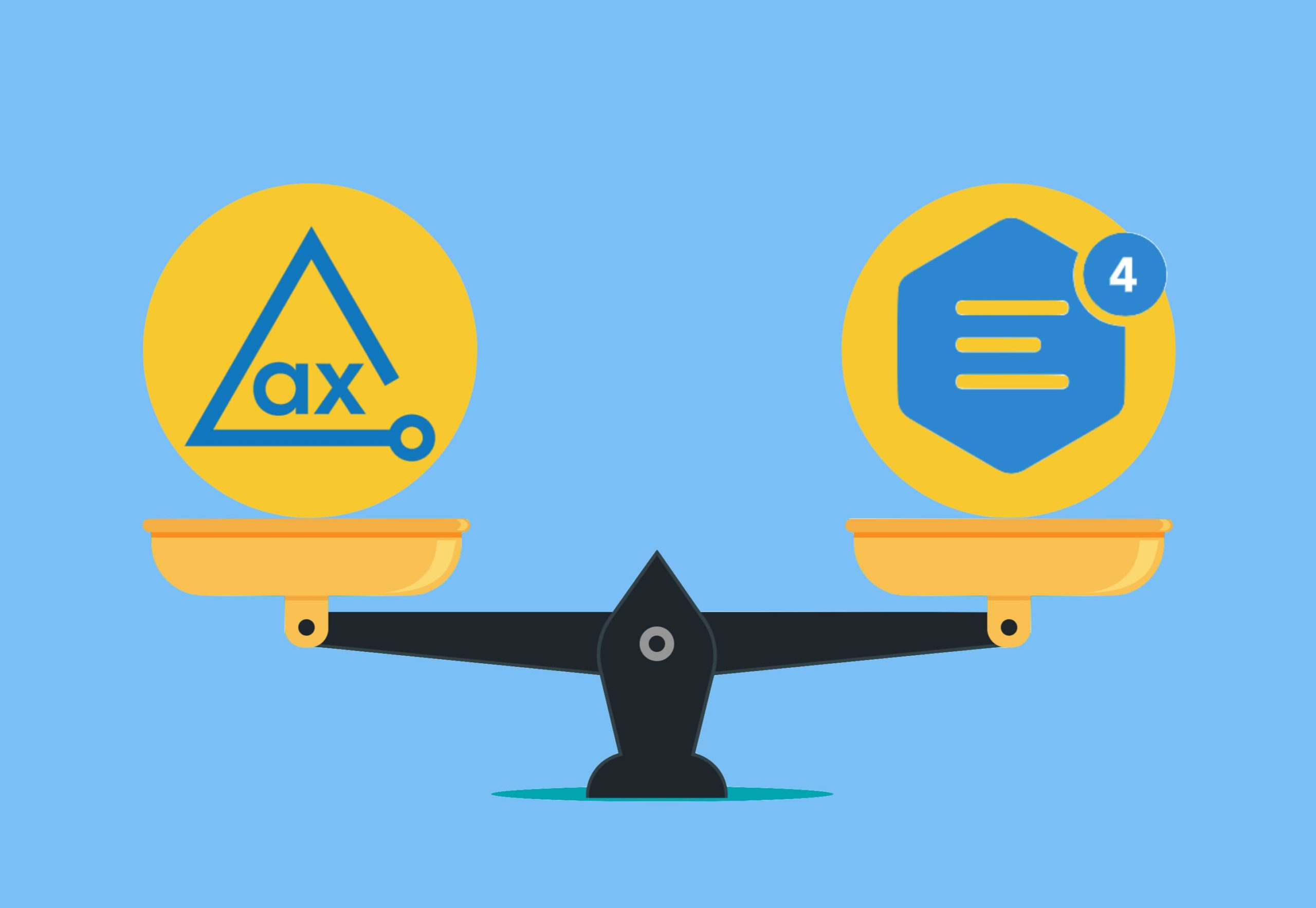 In this article, we will be comparing the CKEditor 4 vs Axe. These two accessibility tools help websites comply with ADA, WCAG 2.0, and Section 508. Besides that, both brands have worked hard to improve their solution to make them easy to use for both back and front end users. Usability, features, customer service, and pricing are the main characteristics of our comparison, so continue reading to find the right scanner for you!

Therefore, if you are interested in installing a tool that could improve your website's accessibility, check out this article and compare two field leaders. Bear in mind that there's no lousy accessibility solution. Any tool working towards improving the accessibility of the web is fine, especially if you are just getting started. However, if you want to bring your A-game, then these are the right tools for you. The point is, it is all about preferences between CKEditor and Axe.
Usability Comparison
CKEditor helps website owners easily adjust the content. Besides the technicalities which make sites compliant, the content has a significant role: the way its distributed, font sizes, spacing, layout, and so on.
The newest add-ons allow users to collaborate just like they can within the Google Workspace, Slack, Dropbox, etc. Making the workflow seamless is CKEditor's angle in making website accessibility projects easier to tackle and more attractive for businesses to start.
Axe solution, on the other hand, is implemented during the development phase of the website, not once everything has been completed and ready for remediation. Instead, they designed a tool that can make websites accessible from the get-go.
Anyone can start using Axe by installing a free chrome extension. What is great about Axe, is that they offer a solution for mobile apps and make them compliant with regulatory requirements. At the same time, users with disabilities get the chance to access the website from both desktop and mobile devices, which is, unfortunately, still very rare nowadays. All in all, one thing that sets Axe apart from its competitors is the product's apparent continuous improvement, intending to ensure the best user experience possible.
Widgets Comparison
CKEditor has developed new add-ons to enable users without background knowledge to find their way around the website and make it accessible with no struggle.
Add-ons are:
Easy Image – Automatic optimization and resizing of the images.
CKFinder – Managing and using files has never been easier. Copy-paste, drop-and-drag, every function to make your work efficient and smooth.
Export to PDF & Word – Exporting documents has never been easier! Choose the desired type of file and download it directly with the help of CKEditor.
Conversely, Axe has designed a couple of products that serve different purposes in accessibility projects:
Axe Auditor – Scanning website's content for errors and producing a remediation report
Axe DevTools – Intelligent Guided Testing as a part of Dev Tools can cover more than 80% of accessibility issues.
Axe Monitor – Tracking and monitoring the website's performance, ensuring that it is immediately resolved for continuous compliance every time an issue comes up.
What About Compliance?
We've already gone through each scanner's usability and widgets. But, nothing is more important that complying with website accessibility regulations and laws! So what tool provides more compliance CKEditor 4 or Axe?
CKEditor 4 scanner complies with a couple of regulations, not only one. Those are ADA, Section 508, and WCAG 2.0/2.1. On the flip side, Axe's solution is designed to satisfy accessibility requirements of WCAG 2.0, EN 301 549, and Section 508. It is clear that Axe here has an advantage as it provides compliance additionally covering Europe's accessibility regulations. However, nor CKEditor 4 nor Axe accessibility scanners are compatible with all regulations.
Customer Support
To reach the customer support of CKEditor, you will need to fill out a form with your information and the reason for reaching out. However, if you want to become a user and purchase a license or renew it, you can reach them via phone.
The number for calls from Canada and United States: +1 800 643 7549
Number for international calls: +1 650 353 32688
Axe, on the other hand, has three different categories of customer support based on the reason for contact.
General Contact – Fill out a form with your inquiry.
Request a demo – Sign-up for a demo and see how Axe's solution works
Product Support – This is for Axe's users facing issues with the tool itself. You will have to fill out a form and expect an answer within one business day.
Price Comparison
CKEditor has three options when it comes to pricing.
All packages include autoformatting, keyboard support, paste from office (both Google Document and Word), widgets, media embed and responsive images, multiple features for articles, and document editing.
Beginners' Free Package
Free of charge
Five active users
Two developers
Commercial license
One internal application
No support requests
So, if you are interested in purchasing some of the add-ons, you can do that for an additional cost.
Standard Package
Medium size projects
Ready to use
$37 monthly with the annual subscription; $44 with a monthly subscription
Twenty-five active users
Five developers
Commercial license
One internal application
Two support requests
Flexibile Package
This package is customized according to the organization's needs and accordingly priced. Every feature, add-on, and perk of having CKEditor comes within this package. Click here to request information.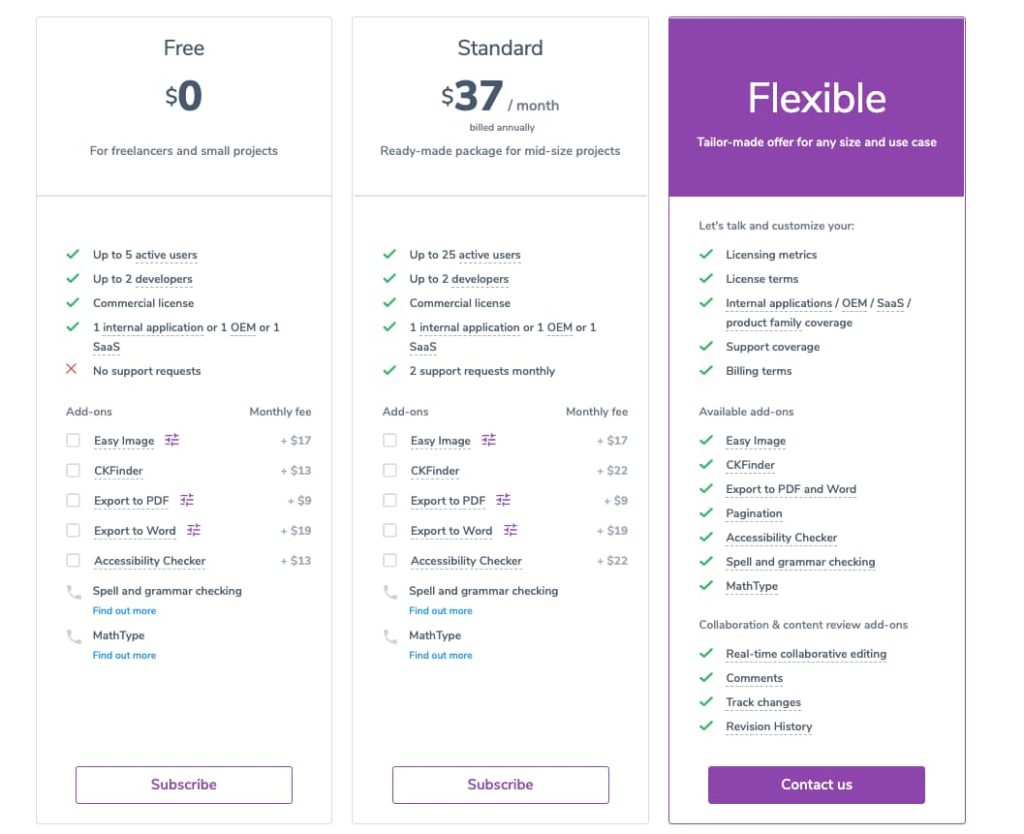 Meanwhile, Axe's iOS and Android accessibility, Axe Auditor, and Axe Monitor tools are free. Dev Tools comes in three different packages:
Free Package
You will receive detailed instructions for remediation. Click here to install the free Chrome extension.
PRO Package
Besides the features from the Free package, it includes:
Intelligent Guided Testing (IGT)
exporting, saving, and sharing issues
$40 a month
Fourteen days of the free trial are available before purchase.
Click here to start the trial.
Enterprise Package
However, on top of PRO features, you will get:
CI/CD integration
CLI – Command Line Interface
iOS & Android Testing
Customizable Rulesets
Extended Reporting
Contact Axe for the price.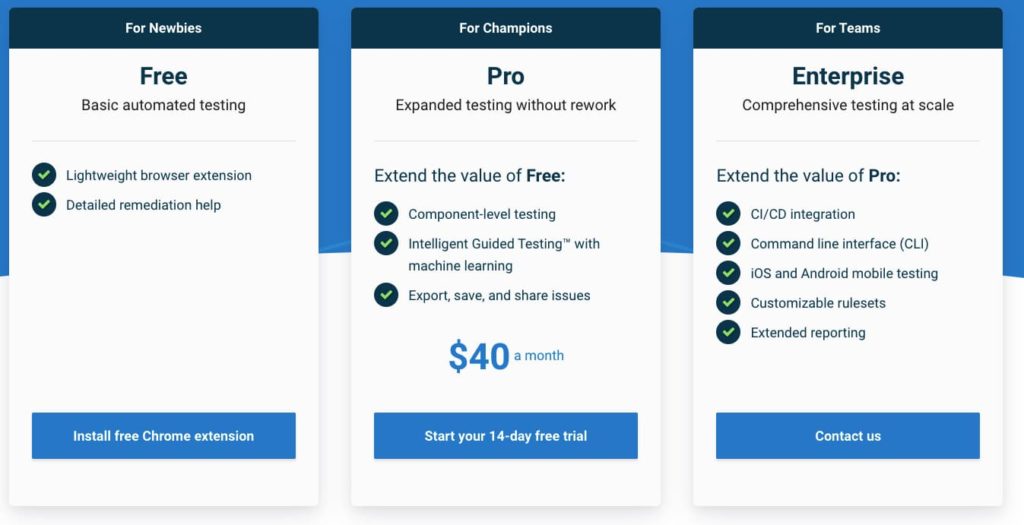 Final Verdict: CKEditor 4 vs Axe
Upon this detailed comparison of these two solution providers, we hope this article will ease your decision-making. Choosing the right tool can be challenging because you need to consider many different features, add-ons, regulations, and many other factors.
Eventually, it all comes down to what are the needs of your business? If your business gets the most traffic from mobile devices, you need to consider optimizing your mobile app and making it accessible to users with impairments. In that case, we have to recommend Axe due to its tools for iOS and Android applications.
On the other hand, content is crucial and shouldn't be overlooked. In the Widget section, we mentioned the features of CKEditor. It is undoubtedly the tool that makes content editing fun and effortless.
Focus on the demand of your consumers that is resulting in needed change within your business. Based on that, you will be able to choose the right partner in your accessibility journey.
Comparison Table
CKEditor 4
Axe
Pricing
Free with add-ons charges
Free / Paid plans start at $40
Features
– Easy Image
– CKFinder
– PDF & Word Export
– iOS & Android
– Axe Auditor
– Axe DevTools
– Axe Monitor
Compliance
Section 508, WCAG 2.0/2.1
WCAG 2.0, EN 301 549, Section 508
Languages Offered
70 language versions
English
Customer Support
– Support plugin
– Help Centre
– GitHub Feedback
– Cross-browser support
– Online Contact Form
– Phone number
– Email Support
Amount of Users
N/A
N/A
Client Packages
Free, Standard, Flexible
Free, Pro, Enterprise
Years of Establishment
2012
2021
Country of Establishment
USA
USA
Fully Compliant or Partly
Partially
Partially
Free Scans
Available
Available
Free Demo/Trial
Available
Available